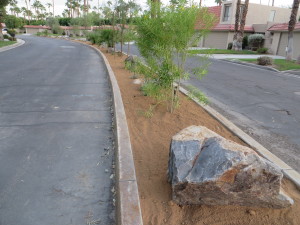 From the plans drawn up by RGA Landscape Architects over a year ago to today……….what a journey! The Median Rejuvenation Project is almost done. There are a few things to tidy up, plus some signage to be designed and installed, but the bulk of the work is done.
The plants and trees are young, but still they are nicely lush. RGA designed the project so that there would be room for everything to grow. So we should see more color as the smaller plants grow and bloom. And a gradual filling in over the next 2-3 years. It should be fabulous.
We will present more pictures and a video for our snowbirds in a couple of weeks.
Several people have asked about the peninsula attached to the guard house, as no work was done on that. That peninsula is part of the Main Gate project, which involves the guard structure, Main Gate islands, CCGC signage and the Cathedral Canyon frontage. This project entered a discussion phase with Welk Resorts and the other Main Gate association a couple of years ago, even before we conceived the Median rejuvenation. We hit a snag at that time, and opted to postpone consideration for a while. In the interim, we create the Median project as a catalyst, to show that we could all work together to achieve something major.  Now that we have done that, we have a good model from which to work on other projects, albeit with a different funding mix due to the commercial nature of the gate and a universal desire to raze the guard house in favor of something stunning.
Stay tuned over the next year for information on this project!